1-866-305-9012
Email Us:
info@lynxpp.com
Product Category
Lynx Precision Products offers several capabilities that can fulfill your manufacturing needs
Services
Do you have shipping or warehousing needs? Lynx can handle everything from start to finish
Die Castings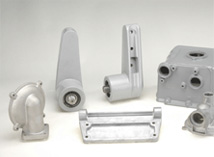 LYNX Precision Products is a leading global manufacturer of custom and standard die cast and forged products and components. We serve the industrial OEM and replacement parts markets, specializing in parts and components for automotive, medical, material handling, agricultural, construction, and industrial equipment applications.
Die casting and forging are processes used to manufacture high wear, high performance metal parts. Die casting is used for complex, precision shapes and parts that are manufactured using alloys. Forging is used for parts that require very high strength and very high wear properties.
Die Cast Manufacturing
Die cast parts are manufactured by pouring molten metal into a die to produce the required shape. The metal can be formed into a wide range of shapes with high precision, from small, intricate components to large and complex parts. Because the metal is melted during casting, the process is used for alloys that exhibit work hardening or become brittle during other manufacturing processes, such as forging. In addition, the tooling for die casting is less expensive than tooling for forging, making it a more economical process for small production runs.
Die Forged Parts
Forging shapes the metal part using compression and can be performed on cold, warm, or hot metals. During compression, the grain of the metal is deformed to follow the shape of the part. This increases the impact and shear strength of the metal. While some alloys can be cold forged, most metals are hot forged to prevent the work hardening that results from cold forging. Most forged parts require secondary processing, such as heat treating and machining, to finish the part.
Headquartered in the U.S., LYNX offers a unique combination of U.S.-based management and Chinese manufacturing efficiency. Our wholly-owned Chinese manufacturing facility is supported by a network of Chinese manufacturing partners that has demonstrated its ability to manufacture custom products that meet or exceed the quality standards required by U.S. and European customers. At LYNX, we deliver value on all of our projects – high quality products at offshore prices. Your parts will be delivered to you production-ready, on time, and on budget.
Because we own our manufacturing facility, we are able to eliminate any communications and cultural challenges often found working with Chinese manufacturers and ensure your finished product meets your exact requirements and your highest quality standards. Our die casting and forging capabilities include:
Fully-equipped state-of-the-art production facilities
In-house design and manufacture of tooling and dies
Tight tolerances
High repeatability
Wide range of materials, including aluminum, brass, copper, nickel, stainless steel, cold rolled steel, high carbon steel, and galvannealed steel
Short to high volume production runs
Our die casting services include:
Turnkey fabricating and machining services – Our manufacturing services include fineblank stamping, metal fabricating, CNC machining and turning, laser cutting, drilling, finishing, and assembly.
In-process quality control – All of the parts and components manufactured by LYNX are manufactured using the Toyota quality system, including in-process quality control. We adhere to Level 3 PPAP standards so that you can be assured that your products are delivered production-ready. LYNX is ISO 9001-2008 certified.
Local delivery – We operate 3 stocking warehouses in the U.S.
Vendor-managed inventory program – LYNX can manage your production inventory and supply chain through our standing order and just-in-time delivery program.
U.S. payment terms – LYNX is based in the U.S., so we offer invoicing and payment through our U.S. offices. You don't need to worry about letters of credit, prepayments, or the other inconveniences of working directly with foreign manufacturers.
LYNX Precision Products is proud of our reputation for providing the highest quality parts and components for our customers. By closely managing production in our facility and working with high quality Chinese manufacturers, we are able to provide you with parts and components that meet your specifications at an economical price. Our U.S.-based sales and marketing staff are available to help you solve your manufacturing challenges.